8 Creative Ways to Upcycle Vintage Watches
I love giving new life to something old and discarded.  Old watches are one of the best items to recycle into new jewelry.  You can use every part from the gears inside, the watch faces, the case and even the old bands in your creations.  It doesn't matter if the pieces are rusty and don't work or if the glass is broken.  There are so many ways to use these saved treasures and today's tutorials will inspire you to take a new look at that old watch.
Grab some pliers, charms, beads, other old vintage jewelry, and jewelry findings and experiment with setting off the style and accessorizing  that old watch.
First, try filling that old pocket watch with little bits that express who you are.  Jennah purchased new watches for this but it is so easy just to open an old watch!  Next she filled the cases with pins, rice, or seeds.  There are many things you could put in the watch cases.  Try a collection of sea shells or beads, make a collage.  What can you think of to use?
Easy DIY Pocket Watch Necklace
"I had this thought about filling the watch with "clock insides", as I love how clocks look. But, I wanted something really "me" in there, so I went for a piece of measuring tape."
This next tutorial will show you how to enjoy the details of watches that are normally hidden inside.  Save every gear and cog for using in necklaces and earrings or pins and brooches.
Clockwork works! New DIY Necklace
"I also have a funny fascination for cogs, as I find them so cute (and because I love little mini things) it came into my mind how the cute cogs, wheels and springs from the watch would look when exposed.  I knew exactly what I wanted to… I decided to transform this pocket watch in a cool necklace, recycling every single part of it."
Original Source: http://prettyportobello.blogspot.com/2009/10/clockwork-works-new-diy-necklace.html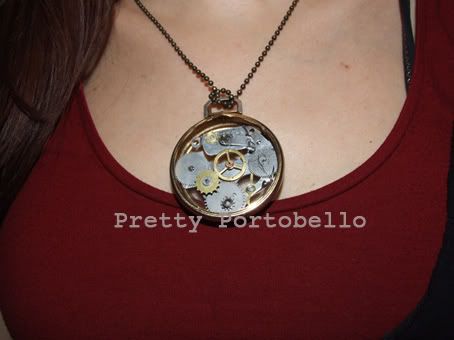 This next tutorial shows how you can even use watches with broken glass fronts.  In fact, Justin intentionally broke the glass with a hammer to add depth and interest to the final piece of jewelry.
DIY: Necklace from Old Watch
"Open the watch. If the pliers won't work, you can use sharp, flat and pointed objects like a knife or a file."
Original Source:  http://www.twatome.com/2012/12/diy-necklace-from-old-watch-steampunk.html
Next, enjoy a very quick tutorial that shows you just how easy it is to turn those old watches in to a lovely statement necklace.  This idea works up so quick you will be pleasantly surprised.
Antique Watch Necklace: DIY
"This necklace is so easy to make. You need an old watch face, something to mount it to, E-6000, and a chain. It cost me $5 to make!"
Original Source: http://mistergandmecrafts.blogspot.com/2012/06/antique-watch-necklace-diy.html
Next, use those old watches to showcase photos of your loved ones just as you would in a locket.  You will enjoy having your loved ones so close and displayed in such a lovely way.
Repurposing Old Watches
"I used my Microsoft Works word processor, inserted pictures from my picture folder, resized them to fit in the watch face and printed it out. I then took the back off the watch, lifted up the insides and slipped the picture over the watch face. I had to recut a few times on some of the photos, but not that much as I traced the little round plastic piece that sets inside the watch to use as my template.  Once the picture is inside between the glass and the watch face, fit everything back in and pop the back on and viola – you are finished!"
Original Source: http://myhomefortheholidays.blogspot.com/2013/03/repurposing-old-watches.html
Learn to reuse those old watch bands to create stunning new bracelets.  Add charms, focal beads and gems or even old vintage jewelry to complete these bracelets.
Recycled Watch Band Bracelets: DIY Jewelry Tutorial
"The attractive recycled watchband bracelets in the photo below were made from vintage expansion stainless steel bands and paired with assorted antique rhinestone pins, gold charms, vintage beads, and dangling charms. Each bracelet is now an intriguing conversation piece combining both old and new elements for a recycled modern vibe."
Original Source: http://dabchickvintage.blogspot.com/2011/08/recycled-watch-band-bracelets-diy.html
Add lace and decorative buttons or pins to the watch bands with this next tutorial.  This step by step tutorial will show you all you need to know to recreate these lacy gems for your arm.
Recycled Watch Band Bracelets
"Most watches have little spring-loaded pegs that you can remove and replace easily. The watch bands I had used little metal pieces that were bent down to hold the watch head in, so I just lifted them with my fingernail(yes, I did break a nail!), removed the head, and pressed them back down with pliers."
Original Source: http://www.rufflesandstuff.com/2010/01/recycled-watch-band-bracelets.html
Finally, create a storybook bracelet by filling that vintage watch with images from your favorite tales.  I love this design and it is so easy to do too!
Down The Rabbit Hole
"My grandmother gave me a whole box of old costume jewelry a while back, including a ton of old watches. This was what came out of it. Believe it or not it is easy as pie!"
Original Source:  http://www.cutoutandkeep.net/projects/down-the-rabbit-hole
There you have eight stylish ways to upcycle every little bit of that vintage watch and turn every piece into part of a work of art.  How will you restore that treasure?  Drop us a line to inspire us all!
You Might Also Like  . . .